Harper Collins India
Dec 2011
ISBN 9789350291207






Click here to get the book





More Fiction



Click for
Refugees from Paradise / fiction


Click for
Island of Infinity / YA




Fiction






The God Enchanter





When Mariam stops beside Joe Welk, a dying American soldier in Iraq, she is entrusted with a diary destined for his child,Alia.

What follows is a remarkable story that unfolds in the voices of Alia, her Iraqi family, a saxophonist in New York, an engineer in north India, a maverick environmentalist and others, as their war-torn lives transform when they come in contact with the enigmatic god enchanter.

The God Enchanter reinforces the power of love and the human soul in a world torn apart by a million mutinies. A haunting novel that spans continents and time.





Reviews :





War is a catalyst for change with repercussions that are felt long after
it is over. Anuradha Majumdar expresses these sentiments with finesse in
The God Enchanter ...

For the full Businessworld review go here

For the Indian Express piece go here

For the Pioneer piece go here

For the Oxford bookstore review go here





The God Enchanter /

book events





GOD ENCHANTER IN KOLKATA / OXFORD BOOKSTORE / 27 FEB / 2012

The wonderful Kolkata audience called God Enchanter "a little big book"
that is at once a novel and poetry and theatre traversing multiple issues of war, change, violence and history with a profound humanity. In conversation with Anjum Katyal and Dipanita Chakraborti.



GOD ENCHANTER LAUNCH IN DELHI / CMYK / 24 FEB / 2012

HarperCollins India and CYMK Bookstore launch The God Enchanter in New Delhi.
In conversation with Tabish Kair.


GOD ENCHANTER - AUROVILLE READING / 10 FEB / 2012

A dramatized multimedia reading at the Sri Aurobindo Auditorium / Bharat Nivas / Auroville

Reading with me were Angad Vohra, Charuduta Prabhudesai, Krishna Devanandan,
Krishna Mckenzie, Parthasarathy, Pierre Legrand & William Sullivan (B)


GOD ENCHANTER LAUNCH IN CHENNAI / AMETHYST / 07 DEC / 2011




The God Enchanter /

FAQ
at Delhi, Kolkata, Chennai, Pondicherry and Auroville.

Q: Who is the god enchanter? God?
A:  Mostly not. He is like a catalyst who helps the characters in the book resist the
onslaughts of night, confront them without fear or, transform them with a far
greater power of love.
 
Q: Why set it against the war in Iraq?

A:  It's a war that affected the whole world, directly or indirectly, particularly people in
Asia. Its effects continue to be felt almost every day going by all that surfaces in the
news even now. It is also a war which became prime time entertainment at its peak,
again, a sign, of how it invaded global society. At the same time one sees the
world's struggle and aspiration to move away from a dominant globalization
that encompasses politics, economy and society, towards a more universal kinship.
The war also questions the boundaries of all religions, whether they be theist, political
or economic. It will probably change our perception of 'god' in the end. All this made
it an unavoidable subject.
 
Q: Is it an anti-war book?

A:  In a sense, yes. It's also a prayer for a different kind of world.
 
Q: Would you call it an Indian book?

A:  Is it an Indian book per se? No. It doesn't have to be. The whole world is the writer's
arena and whatever touches him/her the most, will find expression. More and more
humanity becomes our common inheritance. That said, for me, India remains an
universal starting point and in that, the book probably offers a different
perspective.

Q: Can such a story be 'real"? Can the choices your characters, Mariam or
Mehran or Alia make, be possible? Or is it all fiction?

A:  Depends on how big or small our 'reality' is. Life surpasses the tight control of
what we call 'reality' every day! It makes much more than we realize, possible.
But unlike say narrative non-fiction which must rely on facts, we as story tellers
colonize the imagination of the world.Sometimes, I think writers are like sponges.
They can take a sniff at the world and sense all the unsaid things, or look at an
image and find the hidden stories inside. But imagination is not mere fantasy,
it is also the power to invent a world which becomes part of our reality, like the epics
did once. We still don't know if the Odyssey or the Mahabharata actually happened but
they remain part our civilization. So even if people like Mariam or Alia do not exist yet,
which I seriously doubt, fiction offers them the possibility to do so. In that sense fiction becomes reality's act of imagination.
 
Q: How did you write about places you've never been to – Iraq or NYC?

A:  Again, the world is part of a writer's imagination. In the age of Google we all
trawl the net for facts which may not always be real or true so one needs to go further
than facts for the human story. Shakespeare never visited Venice or Denmark and
yet we do not doubt the truth of Hamlet's dilemma or the tension in The Merchant
of Venice. Borges was totally blind by the time he was 50 and yet how vividly he could
see and comment on life, long after that, Homer's epics are a blind man's testimony
that gave life to a whole civilization. They continue to offer more insight about that time
and society than most other facts.

Q: Why God Enchanter as the title?

A;  That's been a tricky one. God just gets people's hair up the wrong way now,
maybe it's a sign of times! But I stuck with it because that phrase actually triggered off
the book. It is from a poem by Czeslaw Milosz. which stayed with me for a long time.
Of course, for Milosz, god was clearly the enchanter of the world, whereas for me it
began morphing to - man as the enchanter - as one who had to reclaim that
enchantment for the sake of  the world. That  was key to the opening chapter.
 
Q: What is enchantment?

A:  Perhaps its a recognition of the full beauty of the world without our man made
divisions. A state of grace.
TIME BEARS US UPON A DIFFERENT FLAG NOW

EXTRACT :
Time bears us upon a different flag now. Be still, madam.

It will grow incandescent. I know it sounds unbearable,
this lost day burns all we have known, you and I,
in our separate lifetimes.
But we are together now. Let it burn. Let it.
Don't let fear drag you backwards.

The men in my tent died yesterday on this battle field.

I kept myself alive because this must be told.
This enchantment is not a wishful dream of heaven.
It is the only hope for earth.
Cllck here for more in fiction
Auroville Reading of
The God Enchanter
Click to enlarge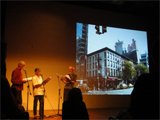 To hear the Auroville Reading LIVE go
here